The Victorious Life
John Coblentz
PART III: CHRISTIAN WARFARE
Understanding the Spiritual Battle
Pages 19 - 27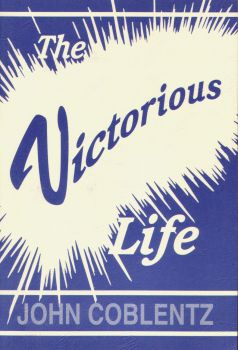 "For we wrestle not against flesh and blood, but against principalities, against powers, against the rulers of the darkness of this world, against spiritual wickedness in high places" (Ephesians 6:12).
Those who would leave the self-life and would live the Christ-life will be opposed. Satan hates those who love Christ. In this section we will explore what the New Testament says about the enemy, his tactics, and God's provision for overcoming him.

THE ENEMY -- Master of Deceit
"He [the devil] was a murderer from the beginning, and abode not in the truth; because there is no truth in him. When he speaketh a lie, he speaketh of his own: for he is a liar, and the father of it" (John 8:44).
Satan is a deceiver. He operates entirely upon lies, trickery, distortion, and treachery. His purpose is to frustrate the plan of God to redeem man.

What do we know about Satan himself?
Jesus said, "I beheld Satan as lightning fall from heaven" (Luke 10:18).
Isaiah the Prophet wrote, "How art thou fallen from heaven, 0 Lucifer, son of the morning! how art thou cut down to the ground, which didst weaken the nations! For thou hast said in thine heart, I will ascend into heaven, I will exalt my throne above the stars of God: I will sit also upon the mount of the congregation, in the sides of the north: I will ascend above the heights of the clouds; I will be like the most High" (Isaiah 14:12-14).
Peter writes about the "angels that sinned," who were cast down to hell (II Peter 2:4).
Satan is a fallen angel, and many angels sinned with him and were cast out of heaven. In the Bible, he is called the devil, the deceiver, that old serpent, the accuser of our brethren, the god of this world, and various other names.
As a fallen angel, Satan has tremendous spiritual power He is a created being, however, and is not all powerful. He is not God's equal.

What tactics does Satan use against believers?
"Lest Satan should get an advantage of us: ignorant of his devices" (II Corinthians 2:11).
WARNING: Some people today have an unhealthy fascination with evil powers. Satan can exploit that and actually draw them into evil through that very fascination. This study is not for those who are fascinated with evil, but for those who abhor it and seek to avoid it.
Following are some of Satan's tactics:
1. Satan plagues believers with temptation.
"Let no man say when he is tempted, I am tempted of God: for God cannot be tempted with evil, neither tempteth he any man: But every man is tempted, when he is drawn away of his own lust, and enticed. Then when lust hat conceived, it bringeth forth sin: and sin, when it is finished, bringeth forth death" Games 1:13-15).
"There hath no temptation taken you but such as is common to man: but God is faithful, who will not suffer you to be tempted above that ye are able; but will with the temptation also make a way to escape, that ye may be able to bear it" (I Corinthians 10:13).
We have noted that Satan is a deceiver. Temptation is his specialty. He capitalizes on making something appealing which will in the long run bring ruin and heartache. It was so with the first temptation (Genesis 3), and it has been so ever since.
The subtlety of temptation is that it always touches some part of legitimacy. As humans, we have desires, hungers, abilities, and needs. These things are not wrong in themselves. Temptation is enticement to satisfy these things in wrong ways.
On the physical level we need food, drink, and rest. On a deeper level, we need love, security, and identity. On a deeper level still we need someone as the object of our inmost devotion -- one to worship. All of these are legitimate human needs, and God has given guidelines for how we satisfy these needs. Temptation is enticement to ignore God's directions.
By ignoring what God has said, man falls into gluttony, addiction, sloth, immorality, treachery, pride, rivalry, hatred, idolatry.... The list could go on and on.
Satan is a master at making God's directions look foolish and unreasonable, at making the present situation seem to be the exception, and at making his suggestions appealing and actually advantageous.
2. Satan uses false teachers who pretend to be from God.
"For Satan himself is transformed into an angel of light. Therefore it is no great thing if his ministers also be transformed as the ministers of righteousness; whose end shall be according to their works" (II Corinthians 11:14, 15). Satan is a master of masquerade. Today he deceives many people through "Christian" media. Deceivers are on "Christian" radio and "Christian" television shows. Deceivers are in "Christian" colleges. Deceivers are in "Christian" musical ensembles. Deceivers are behind pulpits.
How do we know the true from the false?
First, we have the test of God's Word. Paul wrote, "Though we, or an angel from heaven, preach any other gospel unto you than that which we have preached unto you, let him be accursed" (Galatians 1:8). Satan loves to distort the true Gospel. The true Gospel calls people to repent of sin, receive Jesus as their salvation, and follow Him as their Lord. Those who teach another Gospel are deceivers.
Second, a true minister of God will call us away from the world toward God. "Set your affection on things above, not on things on the earth" (Colossians 3:2). "Love not the world, neither the things tat are in the world" (I John 2:15).
Any teacher or singer who leads people to love the world, or makes them comfortable in their worldliness, is deceiving people. The fashions of the world, the fads of the world, the music of the world, the entertainment of the world, is OF THE WORLD. These things are nauseating to God, and they will continue to be so, no matter how many "Christians" or preachers say otherwise.
Satan loves to try to allure Christians away from Christ through a worldly minded "Christianity."
3. Satan uses tactics of intimidation.
"Be sober, be vigilant; because your adversary the devil, as a roaring lion, walketh about seeking whom he may devour: Whom resist stedfast in the faith" (I Peter 5:8, 9).
Believers are secure in Christ. They may depart from Him, however, and apart from Christ, there is no security. But by abiding in Christ they are secure because Christ has overcome Satan.
In spite of this, Satan attacks believers as though he could overcome them. He may bring dreadful thoughts to their minds, including the threat of bodily harm. He may shout accusations at them either about their present blunders or their past sins. He may cast shadows over every promise in the Bible. He may weigh upon believers as a heavy influence of discouragement or doubt or fear. By these tactics he seeks to shake believers from their faith and cause them to stumble.
Such tactics are from Satan. Our God "hath not given us the spirit of fear; but of power, and of love, and of a sound mind" (II Timothy 1:7). God's Word tells us to resist this "roaring lion" by faith. Shortly, we will note more about how to do this.
4. Satan uses affliction.
The Apostle Paul wrote, "There was given to me a thorn in the flesh, the messenger of Satan to buffet me, lest I should be exalted above measure" (II Corinthians 12:7).
Satan attacked Job with the loss of all his possessions, including his children. When Job would not be moved by this, Satan claimed Job would buckle under physical suffering. "So went Satan forth from the presence of the LORD, and smote Job with sore boils from the sole of his foot unto his crown" (Job 2:7).
When temptation doesn't work, when deception doesn't work, when intimidation doesn't work, Satan often resorts to affliction. Severe trials, losses, grief, persecution, sickness, and pain wear on the believer. If the suffering is long, resistance tends to break down. Believers begin to question God. Why me, God? Where are You? What are You doing to me? Where are Your promises? What good is it doing me to be a Christian?
The truth is that God is never more concerned about His people than when they are in the fires of affliction. He is able to accomplish infinitely more good than Satan can inflict evil -- at the same time, and using those very afflictions. But believers sometimes lose sight of this. And Satan, even when he knows he cannot ultimately overcome the true believer, seems to enjoy watching them suffer temporarily. Affliction is one of his hate tactics on those specially loved of God.
These are the subtle workings of Satan. We turn now to the resources available to the believer.

THE CHRISTIAN'S ARMOR -- Equipping for Spiritual Battle
"Put on the whole armour of God, that ye may be able to stand against the wiles of the devil" (Ephesians 6:11).
In the spiritual battle, we need spiritual armor God has given us a detailed description of how to arm ourselves against the workings of Satan.

How can we stand against the enemy?
"My brethren, be strong in the Lord, and in the power of his might" (Ephesians 6:10).
The most fundamental principle of Christian warfare is that Christ is the Victor over Satan. We do not stand a chance apart from Christ. It is by learning to live in union with Christ, by standing in His strength, that we can overcome the enemy
"For this purpose the Son of God was manifested, that he might destroy the works of the devil" (I John 3:8).
"Forasmuch then as the children are partakers of flesh and blood, he also himself likewise took part of the same; that through death he might destroy him that had the power of death, that is, the devil; and deliver them who through fear of death were all their lifetime subject to bondage" (Hebrews 2:14, 15).
"And having spoiled principalities and powers, he made a shew of them openly, triumphing over them in it" (Colossians 2:15).
Jesus is the Victor over Satan. We must stand in His strength, that is, stand in total union with Him. Only those who have abandoned their own wisdom, their own will, their own name, their own desires, their own strength -- those who have renounced SELF for CHRIST -- only those are really equipped to stand against the enemy
We see again how true Jesus statement is: "If any man will come after me, let him deny himself, and take up his cross daily, and follow me" (Luke 9:23). Those who are still living for themselves are easy prey for Satan. Only those who are dead to themselves and alive in Christ are secure against the enemy

What armor do we have in Christ?
"Wherefore take unto you the whole armour of God, that ye may be able to withstand in the evil day, and having done all, to stand. Stand therefore, having your loins girt about with truth, and having on the breastplate of righteousness; and your feet shod with the preparation of the gospel of peace; above all, taking the shield of faith, wherewith ye shall be able to quench all the fiery darts of the wicked. And take the helmet of salvation, and the sword of the Spirit, which is the word of God: Praying always with all prayer and supplication in the Spirit, and watching thereunto with all perseverance and supplication for all saints" (Ephesians 6:13-18).
We need the belt of truth. Christians need truth in their understanding. They also need truth in their character. As we know the truth, and as we are true people, we are equipped against the deceptive wiles and subtle character of the enemy
We need the breastplate of righteousness. As believers are made more and more like Jesus in their speech, their conduct and their attitudes, they are fortified against the workings of Satan. He wants to ruin their lives with evil, but as Christ lives out His life in believers, Satan's purposes are frustrated and Christ is glorified.
We need the boots of the Gospel. "How beautiful are the feet of them that preach the gospel of peace, and bring glad tidings of good things!" (Romans 10:15). How it helps us be victorious when we are active in sharing the Gospel with those about us!
We need the shield of faith. "And this is the victory that overcometh the world, even our faith" (I John 5:4). By faith we refuse the appeals of Satan! By faith we lay hold of the spiritual life in Christ. By faith we live according to God's Word, no matter how foolish it may appear to the world or what opposition we may face in our obedience. The enemy cannot conquer those who are in the Father s hand and who refuse to look elsewhere for protection and direction.
We need the helmet of salvation. Salvation needs to be understood here in its full sense -- the rescue out of this world of sin. Elsewhere Paul wrote about the "helmet, the hope of salvation" (I Thessalonians 5:8). Those whose lives are helmeted with such hope disdain the trifles offered by this world. They look for the world to come! They live for the appearing of the Saviour!
We need the sword of God's Word. No one will go forward in victory against the enemy who is not equipped in heart and mind and conduct with the Word of God. Apollos was "an eloquent man, and mighty in the scriptures," but he knew only the baptism of John. Aquila and Priscilla, who knew the full Gospel "took him unto them, and expounded unto him the way of God more perfectly." After that, Apollos "mightily convinced the Jews... shewing by the scriptures that Jesus was Christ" (Acts 18:24-28).
We need to pray. We are called to pray "in the Spirit." Prayer takes us into the realm of the unseen, into the glorious powers of heaven, but also into the realm of "spiritual wickedness in [the heavenlies]" (v. 12). By prayer, in the name of Jesus the Victor, we can oppose the enemy with watchfulness and perseverance "for all saints." We can intercede, in other words, in the behalf of others who are facing spiritual struggles. Jesus said to Peter, "Behold, Satan hath desired to have you, that he may sift you as wheat: But I have prayed for thee, that thy faith fail not" (Luke 22:31, 32). Spiritual victory, then, is again seen to be not merely an individual matter, but the cooperation of saints working together, fighting in behalf of one another, standing unitedly against the enemy.
Those who would live the victorious life must do so according to the ground plan of the Captain. No plan, no device, no tactic planned by humans can give us the victory. Only Christ is the Victor over the enemy. Only in Him will we be saved from the perils of the evil one.
---
On the basis of this short study, can you as a believer in Christ sign your name to the following commitment?
Lord, God of heaven, I commit myself:
To deal thoroughly with sin in my life
To renounce self, accepting death with Christ.
To allow Christ to lead my life however He pleases.
To devote myself wholly to God.
To seek God regularly in prayer and Bible study.
To unite and stand with God's people.
To equip myself for spiritual battle with God's armor.
(Signed) _______________________
Date _______________________
* * * * * * * * * * * * * * * * * *
For a more extensive study in the fundamental doctrines of the Christian faith, you may order Basic Bible Studies. This 20-lesson workbook is published by Christian Light Publications.
Copyright © 1992 Christian Light Publications

Second Printing, 1996

ISBN: 0-87813-550-2