The Victorious Life
John Coblentz
PART II: THE CHRIST LIFE
Experiencing Christ as Our Life
Pages 10 - 18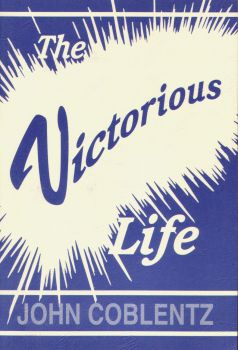 How easily believers in Christ slip into the trap of trying to live the Christian life in their own strength! This can be with the best of intentions. We want to be productive. We want to please our Lord. We want to see the church go forward. We want to be strong, holy people. When out best efforts fail, we are sometimes ready to conclude Christianity is for everybody but us. Or we wear religious masks that give the appearance things are going welt but we live in fear that someone will discover the horrible truth of our private failures. Sometimes we even convince ourselves that our efforts are working. We're doing fine. Nobody's perfect.
This section leads us to the source of the Christian life. The journey is sometimes surprising, sometimes painful, but always rewarding!

THE CROSS -- Death to Self
"If any man will come after me, let him deny himself, and take up his cross daily, and follow me. For whosoever will save his life shall lose it: but whosoever Will lose his life for my sake, the same shall save it" (Luke 9:23, 24).
Christ calls every person who would follow Him to deny self. This call strikes at the heart of man's waywardness. "All we like sheep have gone astray; we have turned every one to his own" (Isaiah 53:6). It is impossible to follow this new Master without renouncing the old. Self, like a rebel king, has usurped the throne of the heart. Nobody, NOBODY, can follow Christ without renouncing himself.

What does it mean to deny self?
To deny means to utterly renounce or disown. Christ is not calling for self-denial in the athletic sense (the abstaining from this or that), but in the absolute sense -- the denial of SELF. The ax must be laid to the root. It is all or nothing. No man can serve two masters. Jesus does not call us to deny self because the Christian life goes better when we do so, but because it is impossible to be a Christian apart from denying self. If Christ is to be our Lord, self-renunciation is a must. The only way we can be honest in seeking what Christ wants us to do is to be concerned no longer about what we want to do.
Jesus described this elsewhere as a death experience. "Except a corn of wheat fall into the ground and die, it abideth alone: but if it die, it bringeth forth much fruit" (John 12:24).
Paul, too, spoke of death as prerequisite to experiencing Christ as our life. "I am crucified with Christ: nevertheless I live; yet not I, but Christ liveth in me: and the life which I now live in the flesh I live by the faith of the Son of God, who loved me, and gave himself for me" (Galatians 2:20).
In spite of these clear teachings, many people want the Christian life without meeting this basic requirement for receiving it -- giving up the self-life! They want Christ AND self. They want Christ without the cross.

What is the cross in practical experience?
"Knowing this, that our old man is crucified with him, that the body of sin might be destroyed, that henceforth we should not serve Likewise reckon ye also yourselves to be dead indeed unto sin, but alive unto God through Jesus Christ our Lord" (Romans 6:6, 11).
The cross was a place of pain and humiliation, but primarily, it was a means of death. The person who died on a cross said good-bye to friends and relatives, took nothing with him on the cross, left his former life completely behind. He died.
We can make the analogy for anyone who wants to follow Christ. He leaves his old life behind. Following Christ takes precedence over everything else now. He dies to his possessions, his friends, his reputation, and his own life. The former identity is reckoned dead -- counted as in fact to be dead. Living for self is viewed as the old life; living for Christ is the new life.
The world has no attraction to a dead person. The pleasures of the world, the lusts of the world, the pride of the world, the things of the world mean nothing to a dead person.
Such a death is not limited to "an experience" at some point in time. It is a spiritual reality. We have been crucified with Christ. By faith, we count it so in a continuing way

Why is this death to self so important?
"Therefore we are buried with him by baptism into death: that like as Christ was raised up from the dead by the glory of the Father, even so we also should walk in newness of life. For if we have been planted together in the likeness of his death, we shall be also in the likeness of his resurrection" (Romans 6:4, 5).
Death to self is the only gateway to life in Christ. This is a divine law as unchanging as the natural law of gravity. To live unto God, we must die to ourselves.
The reason this death to self is so important to us, however, is because this is our part. God calls us to surrender to the death experience -- for that we are held responsible. He will take care of giving us life, but we must be willing to die.
It was so with Christ. He was responsible to go to the cross. He struggled in the garden with the awfulness of that death. But He surrendered, and He died. The Father answered with the resurrection.
Everyone who would follow in Christ's steps will experience the same sequence. Death must precede life. Our struggle is with the death experience -- the renunciation of self, the dying to the old life and its ways. But everyone who says yes to the cross will be answered from heaven by a new life. God's life always flows into those who die with Christ. It is a divine law.

What does it mean to experience Christ as our life?
"Abide in me, and I in you. As the branch cannot bear fruit of itself, except it abide in the vine; no more can ye, except ye abide in me. I am the vine, ye are the branches: He that abideth in me, and I in him, the same bringeth forth much fruit: for without me ye can do nothing" (John 15:4, 5).
The Christian life is not, as many think, just a matter of doing certain right things and avoiding certain wrong things. The Christian life is union with Christ. It is the experience of Christ living His life in us. We are united to Him in such a way that all our life comes from Him -- like a branch joined to a vine. All the branch's vitality, nutrients, productivity -- its very life -- comes through the vine. The hope of growing and producing fruit is not a matter of the branch trying harder, but of simply opening up more to the life and nourishment of the vine.
So it is for the believer in Christ. Spiritual growth, spiritual vitality, spiritual productivity depend on union with Christ. He is our LIFE. Without Him we can do NOTHING.
How many times Christians strain at improving themselves, plan more religious activities into their schedule, resolve to overcome some bad habit all without realizing that apart from Christ, all such efforts change nothing.
Don't misunderstand. Union with Christ includes labor, planning, and resolve. But it is labor by His strength, planning under His guidance, and resolve according to His purpose. The conscious awareness of Christ's presence and dependence on Him becomes the LIFE of the believer.

THE CLOSET -- Devotion to God
"But thou, when thou prayest, enter into thy closet, and when thou hast shut thy door, pray to thy Father which is in secret; and thy Father which seeth in secret shall reward thee openly" (Matthew 6:6).
"Behold, I stand at the door, and knock: if any man hear my voice, and open the door, I will come in to him, and will sup with him, and he with me" (Revelation 3:20).
"The hour cometh, and now is, when the true worshippers shall worship the Father in spirit and in truth: for the Father seeketh such to worship him. God is [no a in Greek] Spirit: and they that worship him must worship him in spirit and in truth" (John 4:23, 24).
Every believer needs to spend time with God regularly Worship, prayer, and Bible study are means of spirit-to-Spirit fellowship with God. This inner communion with the Lord builds our relationship with Him, provides us with spiritual nourishment, purges us of that which is carnal and worldly, and deepens our spiritual insight.
Many believers acknowledge the importance of spending time with God, but they struggle with actually doing it.

How can one's devotional time be meaningful?
"The eyes of the LORD run to and fro throughout the whole earth, to shew himself strong in the behalf of them whose heart is perfect toward [fully devoted to] him" (II Chronicles 16:9).
"Devotional time," that is, time spent in prayer and Bible study, is easily misunderstood. Every Christian must learn this: God's primary concern is not with our devotional time, but with our devotion. Devotion is the bedrock of devotions. God draws near to those who are devoted to Him, but those who are not fully devoted may read the Bible and pray till they are blue in the face, and it impresses God not in the least.
We will consider some practical pointers in a moment, but make no mistake. No technique, no Bible reading program, no devotional guide will ever substitute for a heart fully devoted to God. Some people (some very religious people) must understand, in other words, that they can never have a meaningful devotional time until they repent of the clutter of worldliness in their hearts, until they return to complete devotion to God.
"If I regard iniquity in my heart the Lord will not hear me" (Psalm 66:18).

What are some hindrances to meaningful time with God?
"Love not the world, neither the things that are in the world. If any man love the world, the love of the Father is not in him. For all that is in the world, the lust of the flesh, and the lust of the eyes, and the pride of life, is not of the Father, but is of the world" (I John 2:15, 16).
There is much in the world that is beautiful and appealing, much even that is necessary -- food and clothing, work and education, government and institutions. But the world system pulls relentlessly on the heart of man, attracting the interest, filling up the schedule, calling for time and money and affection.
In the Western world probably the greatest hindrance to meaningful time with God is the fast pace of life. We are people of motion, people of activity, people of hurry, people of schedule, people occupied constantly with sights and sounds and gadgets and projects.
It takes quietness to learn to know God. "Be still, and know that I am God" (Psalm 46:10).
It takes time.
Those who really wish to know God will not fit well into the pace and lifestyle of Western culture. Modern schedules and priorities are geared to the love of the world, not to acquaintance with God.

What are some pointers for those who are willing to draw near to God?
"Draw nigh to God, and he will draw nigh to you" (James 4:8).
We have already noted the importance of a devoted life, without which devotional time is pointless. Following are a few pointers for the devoted:
Set a regular time. If we try to fit time with the Lord into our schedule at random, we usually will find such time crowded out instead.
Balance schedule with flexibility. It is good to set goals for reading, study, or memorization of the Scriptures. But it is good to vary the pace and activity from time to time. A goal of reading through Genesis in two weeks, for example, may be interrupted if you experience grief and need to find other Scriptures for comfort.
Use a notebook. Record your insights, your spiritual goals, your struggles, God's solutions, and your prayers. Writing down these things can be helpful in understanding and retaining them. It can also be beneficial later, for our problems sometimes recur.
Share your faith. Spiritual exercise stimulates spiritual appetite. The more we share the life of God with others, in other words, the richer it becomes. And the richer our life in the closet, the richer will be our conversation on the street.
Spending time with God regularly opens the channels for Christ to live His life in us. His thoughts become our thoughts. His plans become our plans. His values become our values. We live unto Him; He lives in us. Such a life is altogether different from the self-life. "Therefore if any man be in Christ, he is a new creature: old things are passed away; behold, all things are become new" (II Corinthians 5:17).


THE CHURCH -- Fellowship of Saints

"And he gave some, apostles; and some, prophets; and some, evangelists; and some, pastors and teachers; for the perfecting of the saints, for the work of the ministry, for the edifying of the body of Christ: Till we all come in the unity of the faith, and of the knowledge of the Son of God, unto a perfect man, unto the measure of the stature of the fulness of Christ: That we henceforth be no more children, tossed to and fro, and carried about with every wind of doctrine, by the sleight of men, and cunning craftiness, whereby they lie in wait to deceive" (Ephesians 4:11-14).


Do I need to be a member of a church to be a Christian?

"But now are they many members, yet but one body. And the eye cannot say unto the hand, I have no need of thee: nor again, the head to the feet, I have no need of you" (I Corinthians 12:20, 21).

God intends believers to function together as an assembly of His people. Many people today think of the church as a building, as a place to go. But the New Testament shows the church as the assembly of those who are saved in Christ.

This assembly operates as a body with each member taking his part, each member receiving care, protection, strength, and nurture from the other members. Every member must have his own relationship with God, but God intends that every member experience that relationship in union with the other members of Christ's body. Nowhere in the New Testament is a Christian instructed how to live his faith apart from the body of believers.


How does church fellowship contribute to the victorious life?

Again note Ephesians 4:14. "That we henceforth be no more children, tossed to and fro, and carried about with every wind of doctrine, by the sleight of men, and cunning craftiness, whereby they lie in wait to deceive." Note that this is in the context of helping one another achieve spiritual maturity in the body of Christ, the church.

The church -- the assembly of the saints -- protects members from false ideas and gives those members strength to stand for truth. How easy it is to grow spiritually lopsided apart from the balance of fellow Christians! What dangers a man exposes himself to when he refuses the shaping and nurture in the assembly of saints!

Jesus said, "Upon this rock I will build my church; and the gates of hell shall not prevail against it" (Matthew 16:18). There is spiritual safety in the assembly of the saints. There is spiritual peril outside of it. Those who want to live victoriously will want to live in union with fellow Christians.




Copyright © 1992 Christian Light Publications

Second Printing, 1996

ISBN: 0-87813-550-2