Christian Family Living
by John Coblentz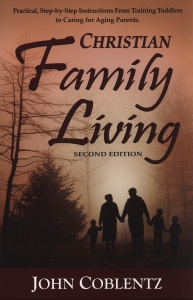 A 316-page book of practical, step-by-step instruction for everything from training toddlers to courtship standards to caring for aging parents. A guide for families, churches, and individuals serious about Christian family living.
Here are the chapter titles:

Basic Family Concepts

Leaving Childhood

Dating and Engagement

Singlehood

Marriage

Parenting

The Home and The Church

When Troubles Multiply

When the Home Breaks Down

Read what others are saying about this book, or leave your own comments. Click Here!

Two study guides are available for Christian Family Living. At $3.00 each, Part I covers chapters 1-4 and Part II chapters 5-9. Also, in addition to the book, CLP offers a paperback series on various aspects of family living: the Christian Family Living Series. Email Anabaptist Bookstore for more information.
Again, here are the portions available for on-line reading:
Marriage

Basic Needs of A Wife
Basic Needs of A Husband
Common Errors in Marriage
---