If Nothing Satisfies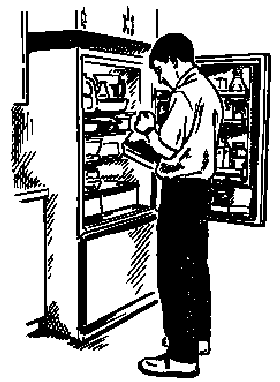 You know the feeling. You are hungry, so you go to the refrigerator. You try a bite of this, a drink of that, a taste of something else, but nothing quite "hits the spot." Nothing satisfies.

Are you satisfied -- really satisfied? Or does your whole life seem to be missing something?

Everyone wants to be happy. And something within us tells us we can be satisfied. However, far too many of us go from day to day, always seeking but never finding. Nothing seems to "hit the spot."

Some seek satisfaction in things. A nicer car, a new home, a new gadget, another set of clothes, a new hunting rifle -- you name it.

Those things cannot satisfy. Jesus said "a man's life consisteth not in the abundance of the things which he possesseth" (Luke 12:15).

Some seek satisfaction in recognition and fame: in being the best in school, in some sport, in politics, on the job, or even in the church.

Of those who seek and receive recognition, Jesus said, "Verily I say unto you, They have their reward" (Matthew 6:16). Recognition and fame do not satisfy. Just look at the list of suicides among the rich and famous.

Some seek satisfaction in power. They seek promotion, to have others subject to them, or to be movers and shakers in their particular circles.

Solomon, king of Israel, tried that route. Hear his conclusion: "So I was great, and increased more than all that were before me in Jerusalem. . . . Then I looked on all the works that my hands had wrought, and on the labour that I had laboured to do: and, behold, all was vanity and vexation of spirit, and there was no profit under the sun" (Ecclesiastes 2:9, 11).

Others try to drown their dissatisfaction in alcohol or drugs. Mind-altering drugs offer short-term forgetfulness, but no long-term satisfaction. They drag their users deeper into despair and hopelessness. "Wine is a mocker, strong drink is raging: and whosoever is deceived thereby is not wise" (Proverbs 20:1).

Some plunge into their work, keeping themselves so busy that they have little time to think of the gnawing disquiet within.

Others search for meaning in promoting causes -- save the trees, save the forests, stop abortion, help the homeless. But "what is a man profited, if he shall gain the whole world, and lose his own soul? or what shall a man give in exchange for his soul?" (Matthew 16:26).
Where can I find real, lasting satisfaction?
Satisfaction -- joy and peace -- is found only in Jesus Christ, not in anything you can do. Listen to God's invitation to you: "Ho, every one that thirsteth, come ye to the waters, and he that hath no money; come ye, buy, and eat; yea, come, buy wine and milk without money and without price. Wherefore do ye spend money for that which is not bread? and your labour for that which satisfieth not? hearken diligently unto me, and eat ye that which is good, and let your soul delight itself in fatness" (Isaiah 55:1, 2).

Would you be truly satisfied? Take Jesus Christ as your Lord and Saviour, and you will be satisfied.
But Remember This
Real satisfaction can never be found by seeking it. It is found only in seeking God. Real, lasting satisfaction comes only as a by-product of knowing God, of being in His will, of serving Him as Lord.
Those who seek to please themselves are selfish. They want to have what they want to have and do what they want to do.
Jesus calls us to a better way. He calls us to take Him as Lord, to deny self, and to want and to do what He wants. And, strange as it may seem -- that is the only way to happiness.
Jesus said, "Whosoever will save his life shall lose it: and whosoever will lose his life for my sake shall find it" (Matthew 16:25). To hold on to what we want, to grasp for control of our lives -- always leads to frustration and discontent. But to give up self and to take Christ as Lord leads to satisfaction. "If the Son therefore shall make you free, ye shall be free indeed" (John 8:36).
The follower of Christ does not seek satisfaction, happiness, or fulfillment -- he seeks to serve and obey his Lord. In doing so, he finds satisfaction, joy, peace, happiness, and fulfillment. "Blessed are they which do hunger and thirst after righteousness: for they shall be filled" (Matthew 5:6).
Only the person who sincerely seeks after God and obeys Him from a heart of love is truly happy. "For he [God] satisfieth the longing soul, and filleth the hungry soul with goodness" (Psalm 107:9).

IF YOU WANT TO KNOW GOD
Receive His Gift
Jesus is God's Gift to man.
"God so loved the world, that he gave his only begotten SON" (John 3:16).
"He that hath the SON hath LIFE; and he that hath not the Son of God hath not life" (1 John 5:12)
"He that spared not his own SON, but delivered him up for us all, how shall he not with him also freely give us ALL THINGS" (Romans 8:32).
How to Receive God's Gift
Repent of your sins, believe on Christ, and confess Him openly.
"REPENT ye therefore, and be converted, that your sins may be blotted out" (Acts 3:19).
"He that BELIEVETH on the Son hath everlasting life: and he that believeth not the Son shall not see life; but the wrath of God abideth on him" (John 3:36).
"If thou shalt CONFESS WITH THY MOUTH the Lord Jesus, and shalt BELIEVE IN THINE HEART that God hath raised him from the dead, thou shalt be saved" (Romans 10:9).
After You Receive the Gift
Rejoice in God's provision, and walk with Christ in a Bible-obeying brotherhood.
"Your heart shall REJOICE, and your joy no man taketh from you" (John 16:22).
"My God shall supply ALL YOUR NEED according to his RICHES IN GLORY by Christ Jesus" (Philippians 4:19).
"If ye CONTINUE IN MY WORD, then are ye my disciples indeed" (John 8:31).
"Follow righteousness, faith, charity, peace, WITH THEM that call on the Lord out of a pure heart" (2 Timothy 2:22).
---
"If any man thirst, let him come unto me, and drink." -Jesus
---
© Copyright, Christian Light Publications

You may request printed copies of this tract from
Christian Light Publications.

This selection is available on-line
thanks to the contribution
of a congregation blessed by Anabaptists.
You know who you are --
thank you and God bless you!