If You Are Enjoying This World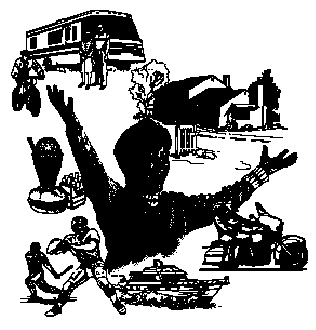 We live in an exciting and fascinating world. In many ways, times have never been better.

Money -- and lots of it -- flows freely. Businesses prosper. If we need something, we can buy it. If we do not have the cash, we can borrow it, use the layaway plan, or pull out our credit cards.

Possessions -- the things that can be bought with money! Houses; cars; stereo systems; TVs; RVs; motorcycles; boats; books -- you name it, and people either have it or are wishing for it.

Foods abound. There are quiet atmospheres for leisurely feasting. There are fast foods for eating on the run, candies for the sweet tooth, pops and juices to quench our thirst, seasonings to spice up our foods, and ice cream parlors for summer refreshment.

Recreation and fun are the order of the day. We grow tired of working and need a break. The beach calls. Campgrounds and parks abound. Museums, swimming pools, sports activities, and games all summon us to forget the hectic pace of life and relax.

And then there is religion. When Grandpa worshiped God, he went to a church house, sat on a hard, wooden bench, and spent a couple of hours worshiping God in the "old-fashioned" way.

People think they do not need that today -- there are TV and radio evangelists, VCRs, tapes, and films. If they do go to church, they sit on padded seats. Music by a choir prepares them for the sermonette to follow.

All in all, life is good. We have it easy. We live in comfort. Yes, life is great.

Life is treating us well, and we enjoy the good things. But when life treats us so well, we tend to forget that life will not go on like this forever.

Also, living to enjoy the good life causes us to lose our sense of need for God. We forget God. And we forget that He will judge this world.

That's right; this world -- and the enjoyable things it provides us -- will not endure. "For all that is in the world, the lust of the flesh, and the lust of the eyes, and the pride of life, is not of the Father, but is of the world. And the world passeth away, and the lust thereof: but he that doeth the will of God abideth for ever" (1 John 2:16, 17). One day this world and all of its pleasures will be gone. I repeat, GONE.

When is this going to happen? When Jesus returns.

What will happen to these good things then? Listen to Peter as he describes the end: "But the day of the Lord will come as a thief in the night; in the which the heavens shall pass away with a great noise, and the elements shall melt with fervent heat, the earth also and the works that are therein shall be burned up. Seeing then that all these things shall be dissolved, what manner of persons ought ye to be in all holy conversation [conduct] and godliness"? (2 Peter 3:10, 11).

Yes, life, and the world as we know it, will come to an end, but there is something that will last forever. "He that doeth the will of God abideth forever."

You can enjoy a life everlasting after this world is gone, but to do so you must live, as Peter described it, "in all holy conversation [conduct] and godliness." Only those who are holy (separated from sin) and are living godly lives will live forever after the destruction of the world.

Jesus will return to judge this world. When Jesus returns, we must be ready and watching. The Bible uses the word watching -- the same word used for what a night watchman is to do. We are to be as alert as a night watchman should be in watching for any signs of danger and the enemy.

We can become so involved in enjoying life that we forget God. Like a night watchman who takes a little nap, we can be found sleeping when Jesus comes.

How is it with you? Are you being lulled into spiritual sleep? Have you allowed the pleasant things of this life to keep you from seeking God?

"When the Lord Jesus shall be revealed from heaven with his mighty angels, in flaming fire taking vengeance on them that know not God, and that obey not the gospel of our Lord Jesus Christ" (2 Thessalonians 1:7, 8) -- in what condition will he find you in that day?

Will you be among those "who shall be punished with everlasting destruction from the presence of the Lord"? (verse 9). Or will you be watching, ready, and living a life that is pleasing to Him, so that you may "ever be with the Lord"? (1 Thessalonians 4:17).


If You Want to Abide Forever

Consider Your Soul

"Whosoever will come after me [Jesus], let him deny himself, and take up his cross, and follow me. For what shall it profit a man, if he shall gain the whole world, and lose his own soul? Or what shall a man give in exchange for his soul"? (Mark 8:34-37).

Take Jesus as Your Lord and Saviour

"Repent ye therefore, and be converted, that your sins may be blotted out, when the times of refreshing shall come from the presence of the Lord" (Acts 3:19),

"Behold, I stand at the door, and knock: if any man hear my voice, and open the door, I will come in to him, and will sup with him, and he with me" (Revelation 3:20).

Live a Life of Holiness

"Follow peace with all men, and holiness, without which no man shall see the Lord" (Hebrews 12:14).

"That ye may be blameless and harmless, the sons of God, without rebuke, in the midst of a crooked and perverse nation, among whom ye shine as lights in the world" (Philippians 2:15).

Watch for His Return

"Watch ye therefore, and pray always, that ye may be accounted worthy to escape all these things that shall come to pass, and to stand before the Son of man" (Luke 21:36).
---
This world offers many short-term pleasures,
but only Jesus gives eternal joys.
---
© Copyright, Christian Light Publications

You may request printed copies of this tract from
Christian Light Publications.

This selection is available on-line
thanks to the contribution
of a congregation blessed by Anabaptists.
You know who you are --
thank you and God bless you!