If You Do Not Believe All That Stuff About Easter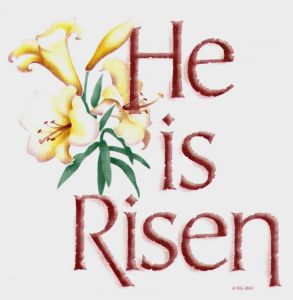 "It just doesn't mean all that much to me," some people say. "I don't get it -- a story of a man who rose from the dead?"
Just about everyone knows the basic story of Easter. Jesus Christ had been crucified. He had died and was buried. And on the third day He arose again
Easter comes each year at about the time spring begins. Even the timing is right: Just as flowers begin to bud, plants begin to grow, breaking the grip of winter, Christians celebrate life from the dead -- the Resurrection of Jesus Christ.
Jesus, an actual man, had died at the hands of the Romans. He was put to death, His hands and feet nailed to the cross. Hundreds, perhaps thousands, watched as He slowly suffered and died. Finally, to make sure He was indeed dead, the executioners sliced open His side with a spear. Convinced, they allowed friends to take His body down from the cross and bury it.
Jesus' mother was there, and witnessed the death of her son. That same evening, His friends took the body away, prepared it for burial according to Jewish custom, and placed it in a tomb.
Many of those who witnessed His death had lived with Jesus, eaten with Him, and listened to Him teach. They had believed He was the Son of God, the promised Messiah awaited by the people for thousands of years. Now, many of them were disappointed, even puzzled, by Jesus' death. They just had not expected it to end this way.
A boulder was rolled in front of the tomb. Because the Jews were concerned that Jesus' followers might remove the body and then claim He was alive, the Roman governor posted guards at the door of the tomb.
Despite all of this, when Jesus' friends came to the tomb several days later, they were greeted not by soldiers and the body of their Lord, but by angels and an empty tomb.
Jesus' friends found an empty tomb.
Later that day, Jesus appeared among them, saying, "Peace be unto you" (John 20:19). He ate and drank with them, and showed them He was very much alive (Luke 24:40-43).
But Thomas, one of Jesus' followers, was not there when Jesus came. Later Thomas's friends told him excitedly about the living Jesus, but he refused to believe. Thomas was not easily persuaded. He was not going to believe something he could not see for himself.
You can almost see him standing there, unbelief written on his face as he says, "Except I shall see in his hands the print of the nails, and put my finger into the print of the nails, and thrust my hand into his side, I will not believe" (John 20:25).
Eight days later, though, Jesus appeared to this unbelieving Thomas. "Reach hither thy finger, and behold my hands; and reach hither thy hand, and thrust it into my side: and be not faithless, but believing" (John 20:27). Thomas, confronted with the truth, melted, saying humbly, "My Lord and my God" (verse 28).
It would be neither honest nor accurate to say that all of Jesus' followers believed He had risen. But over the next 40 days, Jesus appeared over and over to His disciples. Finally, they came to understand. The ancient Scriptures were fulfilled; Jesus Christ, the Son of God, the promised Messiah, had risen! Their lives -- and the lives of millions of people since then -- were changed because of the Resurrection of Jesus Christ.
The Bible says that after Jesus ascended into heaven, His friends "worshipped him, and returned to Jerusalem with great joy" (Luke 24:52).
You can have new life because of Jesus' Resurrection
Your life can change too. That same joy -- the joy of knowing God and His Son -- can be yours. You, as millions of others through the centuries have done, can find the peace and joy that is possible because Jesus Christ died for your sins and rose again to give you new life.
Perhaps, like Thomas, you find it difficult to believe in things like the Resurrection and sin and the need for salvation. But perhaps you would like to know more.
Do you have questions? The people who gave you this Just for You would be happy to answer your questions. You do not need to be embarrassed if you do not know much about the Bible or religion. And they will not bother you or try to force anything on you. Give them a call. The phone number or address is on the back.

IF YOU WANT TO BE FREE FROM SIN'S BONDAGE
Acknowledge Personal Sin!
"For all have sinned, and come short of the glory of God" (Romans 3:23).
"All we like sheep have gone astray; we have turned every one [place your name here] to his own way" (Isaiah 53:6).
Believe Personal Promises!
"Christ was once offered to bear the sins of many" (Hebrews 9:28).
"And ye know that he was manifested to take away our sins" (1 John 3:5).
"Who his own self bare our sins in his own body on the tree" (1 Peter 2:24).
"For God so loved the world, that he gave his only begotten Son, that whosoever believeth in him should not perish, but have everlasting life" (John 3:16).
Accept a Personal Salvation!
"If thou shalt confess with thy mouth the Lord Jesus, and shalt believe in thine heart that God hath raised him from the dead, thou shalt be saved" (Romans 10:9).
Experience Personal Freedom from Sin
"If the Son therefore shall make you free, ye shall be free indeed" (John 8:36).
Become a New Person
"Therefore if any man be in Christ, he is a new creature: old things are passed away; behold, all things are become new" (2 Corinthians 5:17).
Only in Christ does man's soul lose its ache.
---
© Copyright, Christian Light Publications
You may request printed copies of this tract from Christian Light Publications.