If You Struggle With Fear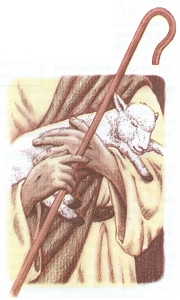 You will probably be surprised when I tell you what my strongest fear used to be.
I'll tell you about the smaller fears first. I was afraid of painful memories. But even while I avoided places that triggered those memories, I was afraid of losing the good memories that were inseparable from the ugly ones.
I was afraid I would always be sad and cynical. I was even more terrified by the offer of happiness and hope.
I was afraid I would never fully belong anywhere, but whenever I started getting attached to a group of people, I backed away in fear. I backed away from the things I wanted most because I was afraid I would find out they were not what I had thought they were.
I also knew that the more I had, the more I could lose. And I knew a little about the pain of losing something beautiful and good.
With so many fears, does it surprise you that I was afraid of fear itself? I knew all too well how fear could paralyze me and keep me from doing what I wanted to do.
And that brings me to an even stronger and mores surprising fear. The thought of losing my fear terrified me. You might think that was ridiculous. Let me explain. I knew that without fear I would become more vulnerable. Fear kept me always alert and on guard. Fear kept a wall of protection around my heart. Besides that, I was so used to being afraid that I could not imagine life without fear. I hung onto my old, familiar fears like a child hangs onto a ragged teddy bear.
Fear was hanging onto me;
I couldn't get away from it.
Eventually I saw that fear was crippling me. And it was making me unbearable lonely. I was ready to get rid of my fear.
Then I found out that I couldn't get rid of it. I was no longer hanging onto my fear. Fear was hanging onto me, and I couldn't get away from it.
I found only one way to break the grip of fear. It is not in a three-step formula. It is not by a magical incantation. It is not through strenuous self-effort or positive thinking. It is the way of Jesus Christ, the Son of God.
I have discovered that I can come to Jesus and tell Him about my fears. I even tell Him when I'm afraid of Him. I tell Him when I'm afraid of losing my fear. I run to Jesus the way I ran to my daddy as a three-year-old. When my daddy lifted me up into his arms, I was no longer afraid even if the scary things around me were still there.
When I'm talking to Jesus, I'm no longer afraid, even if the frightening circumstances around me remain unchanged.
Maybe you never had a daddy who carried you when you were scared of strange dogs and rocked you when you were feverish. But you can still discover the safety of Jesus' arms now. Jesus carries His children like a shepherd carries a lamb. When Jesus was on earth, He told the people who had come to hear Him, "I am the good shepherd: the good shepherd giveth his life for the sheep" (John 10:11).
Jesus is no longer on earth in human form as He was then, but He is here no less. He will be a Shepherd to all who want to be His sheep.
When I was my daddy's little child, he sometimes had to leave me behind. Jesus never leaves me for even a moment. The life He gives lasts forever. Nothing -- outside of my own choices -- can take me from His arms. Jesus says, "My sheep hear my voice, and I know them, and they follow me: and I give unto them eternal life, and they shall never perish; neither shall any man pluck them out of my hand" (John 10:27,28).
This promise is for everyone who asks Jesus to hold them in His hand. It is for all who will throw their whole weight on Him, trusting Him to carry them, protect them, and plan their entire lives for them.
Jesus knows His sheep. And He knows you -- even if you are not one of His. He knows when you are afraid. He sees when you are crying, and He sees when you are too scared to cry.
Will He do for you what He is doing for me? Will He hold you safe? Will He carry you?
You can know real safety, in Jesus Christ.
There is only one way for you to find out. Run to Jesus. You must let go of your own carefully developed defense mechanisms and survival schemes. Stop trying to take care of yourself. Let go. Let yourself be helpless.
Of course, that means you are going to be hopeless, too, unless He picks you up.
But He will! He will. "Faithful is he that calleth you, who also will do it" (1 Thessalonians 5:24).

For Freedom from Fear
SEE Your Condition
"There is NONE RIGHTEOUS, no, not one. ALL HAVE SINNED" (Romans 3:10,23).
"ALL we like sheep have GONE ASTRAY" (Isaiah 53:6).
HEAR God's Offer Through Christ
"Come unto me, all ye that labour and are heavy laden, and I WILL GIVE YOU REST" (Matthew 11:28).
"Repent ye therefore. . .THAT YOUR SINS MAY BE BLOTTED OUT" (Acts 3:19).
TASTE God's Provision
"Blessed are they which do hunger and thirst after righteousness; FOR THEY SHALL BE FILLED" (Matthew 5:6).
"MY SOUL SHALL BE SATISFIED as with marrow and fatness; and my mouth shall praise thee with joyful lips" (Psalm 63:5).
FEEL God's Transforming Power
"Therefore if any man be in Christ, HE IS A NEW CREATURE: old things are passed away; behold, ALL THINGS ARE BECOME NEW" (2 Corinthians 5:17).
LIVE a New Life
Jesus said, "I am come THAT THEY MIGHT HAVE LIFE, and that they might have it MORE ABUNDANTLY" (John 10:10).
"As Christ was raised up from the dead by the glory of the Father, even so we also should walk in NEWNESS OF LIFE" (Romans 6:4).
"If ye CONTINUE IN MY WORD, then are ye my disciples indeed" (John 8:31).
"Come unto me, all ye that labour and are heavy laden, and I will give you rest." --Jesus
---
© Copyright 2005, Christian Light Publications
You may request printed copies of this tract from Christian Light Publications.