Are You Sick?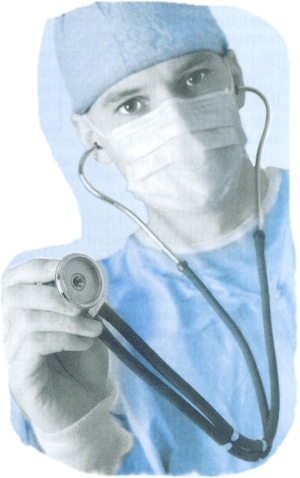 "You're sick."
"Thanks a lot. So are you."
"No, I don't mean that unkindly. I'm just telling it like it is."
"So am I."
"You really are sick. Could we talk about it?"
"Go bother someone else. I'm just fine, and I don't fancy being told by a sick preacher that there's something wrong with me."
"But -- "
"But, nothing. I'm as good as anyone else I know."
"That's how I used to feel until I met the Doctor."
"Yeah, he convinced you that you were sick, then he operated on you, and you're still paying, right?"
"Yes and no. Let me tell you about Him. May I?"
"I'm listening."
"The Doctor is Dr. Immanuel. In a special report He has released through His attendants, He pinpointed a human disorder known as morbus evilim fatalis. The disease is one hundred percent fatal without treatment, and everyone has it, no exceptions. Dr. Immanuel alone is able to treat the disease. His treatment brings a complete cure, and He has treated countless patients from all walks of life. But most people, like you, won't admit they have a problem, and they refuse His treatment and die."
"What does the treatment cost?"
This disease is 100%
fatal if not treated.
"It is beyond price. All Dr. Immanuel asks is that you acknowledge your condition, agree to His treatment, and become involved in helping others find healing."
"What would He do to me if I went to Him?"
"He would remove your old heart and give you a new one."
"Would it hurt?"
"It will kill you."
"What!"
"That's right. Your old life must die. You will become a new person through the operation. You will thereafter lead an entirely different life."
"But what will my friends think if I become a different person?"
"You will gain new friends. In the new life, you will think differently. The things that seem important to you now will be trivial to the new person you will become, and the things that seem bitter now will be sweet then."
"I don't understand."
"There are many things you won't understand until you have a new heart. But the basic things you can understand now: You are sick with a fatal disease. Dr. Immanuel can help you. And you need to come to Him for help. You understand those simple facts, right?"
"Y-yes."
You will have a new heart
-- and a new life.
"Will you come with me right now? We'll go to Dr. Immanuel, and you tell Him your condition and ask for healing."
"Well -- "
Everyone has it?
Yes. Everyone. "All have sinned, and come short of the glory of God" (Romans 3:23). "They are all gone aside, they are all together become filthy: there is none that doeth good, no, not one" (Psalm 14:3).
And it's always fatal?
Always. God has spoken definitely: "The soul that sinneth, it shall die" (Ezekial 18:20). "Then shall he say also unto them on the left hand, Depart from me, ye cursed, into everlasting fire, prepared for the devil and his angels" (Matthew 25:41). "Whosoever was not found written in the book of life was cast into the lake of fire" (Revelation 20:15).
Must it be so costly?
It must. Jesus said, "Whosoever will save his life shall lose it; but whosoever shall lose his life for my sake and the gospel's, the same shall save it" (Mark 8:35).
But shouldn't your salvation cost you, "forasmuch as ye know that ye were not redeemed with corruptible things, as silver and gold, from your vain [lifestyle]. . .but with the precious blood of Christ" (1 Peter 1:18,19)? Jesus gave His life for you; why should you not give yours to Him?
A new life? Isn't that exaggerating it?
No. It is not. "[God] hath delivered us from the power of darkness, and hath translated us into the kingdom of his dear Son" (Colossians 1:13). "Therefore if any man be in Christ, he is a new creature: old things are passed away; behold, all things are become new" (2 Corinthians 5:17).
If You Would Be Spiritually Healthy
Trust in Jesus Christ
"For God so loved the world, that he gave his only begotten Son, that whosoever believeth in him should not perish, but have everlasting life. He that believeth on him is not condemned: but he that believeth not is condemned already, because he hath not believed in the name of the only begotten Son of God" (John 3:16,18).
Confess and Repent of Your Sins
"If we confess our sins, he is faithful and just to forgive us our sins, and to cleanse us from all unrighteousness" (1 John 1:9).
"God. . .commandeth all men every where to repent" (Acts 17:30).
Confess Christ as Lord and Saviour
"That if thou shalt confess with thy mouth the Lord Jesus, and shalt believe in thine heart that God hath raised him from the dead, thou shalt be saved. For with the heart man believeth unto righteousness; and with the mouth confession is made unto salvation" (Romans 10:9,10).
Follow Jesus as Your Master
"And he said to them all, If any man will come after me, let him deny himself, and take up his cross daily, and follow me" (Luke 9:23).
Live in Obedience to Him
"And hereby we do know that we know him, if we keep his commandments" (1 John 2:3).
"But whoso keepeth his word, in him verily is the love of God perfected: hereby know we that we are in him. He that saith he abideth ought himself also so to walk, even as he walked" (1 John 2:5,6).
Jesus "was wounded...and bruised for our iniquities...and by his stripes we are healed."
---
© Copyright 2005, Christian Light Publications
You may request printed copies of this tract from Christian Light Publications.