When Fear Comes to School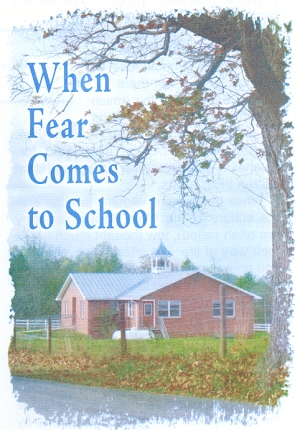 Most of us experience or have experienced fear in school. Stumbling over a big word in first grade. Blushing about mismatched socks or mispronounced words and the laughter of classmates. A churning stomach before an algebra exam. A visit to the principal's office. Some of us had encounters with bullies or steeled our ears against name-calling and jeers.
Few have experienced terror in school, but the numbers are growing.
Where is God when an angry person shows up at school with a gun? How could God allow these ugly school shootings? Where is God when we hurt? The human mind clamors for answers.
Our country was shocked when violent death struck in a rural Amish schoolhouse in Pennsylvania. Even there?
The response of the Amish was the next surprise, and the nation talked about it for a long time. Courageous, deliberate, unsolicited forgiveness--some seemed surprised that such a thing exists.
While many were vaguely familiar with the culture of the Plain People (as they are often called), few thought much about their way of life. But after bullets buffeted one community of Plain People, the country listened and tried to watch (the government very graciously assisted in assuring that the Amish were unbothered by media cameras) while grieving families forgave.
The life and principles of the Amish stand in sharp contrast to the scurrying world of self-seeking, tolerance, and political correctness. The Plain People judge the rightness or wrongness of behavior by the Bible and the life of Christ.
God gave. Christ forgave. We forgive.
Those who were raised in or embraced the Anabaptist persuasion (from which the Amish church was born in 1693) recognize forgiveness, nonresistance, and turning the other cheek as clear teachings of Jesus.
Jesus said, "If ye forgive men their trespasses, your heavenly Father will also forgive you: but if ye forgive not men their trespasses, neither will your Father forgive your trespasses" (Matthew 6:14, 15).
He also taught, "Ye have heard that it hath been said, An eye for an eye, and a tooth for a tooth: but I say unto you, That ye resist not evil: but whosoever shall smite thee on thy right cheek, turn to him the other also" (Matthew 5:38, 39).
Where was God when a man who said he was angry at God walked into an Amish school and opened fire?
God was there strengthening the girls and sending angels to escort some of them to heaven. He heard the prayers of the boys and the adults and the rescue workers.
God gave the shocked and grieving families the ability to forgive. He gently reminded them that a sovereign God does not always protect us from the sin in our world.
No, God does not always protect form fear, from suffering, from death. But He always cares. And He always asks believers to live and respond as His Son Jesus did.
God knows all about forgiveness because He gave His only Son to die. Why?--to provide forgiveness for our sins. Men lied about, mocked, cursed, spat on, cruelly scourged, and finally nailed God's Son to a cross to die. How did Jesus respond? He prayed, "Father, forgive them; for they know not what they do" (Luke 23:24).
God Cares
God does not turn His back on a terrorized classroom or any other scene of fear. He is there. He cares.
He does not turn His back when we suffer or when we fear. Rather He invites us to follow His directions (as found in His Word, the Bible) and to watch as He changes horrible events into volumes of His grace.
Who but God could take a fear-filled school and an angry man and turn tragic events into lessons that bring glory to His name? The very name that the gunman meant to defame received honor when grief-torn people chose to forgive. Their choice to follow the example of Christ brought glory to God and spoke a message of hope to the world.
When you face fear, remember, God is near.

Dare to ask yourself these questions:
Have I asked God for forgiveness of my sins? Jesus died so that we can be forgiven, be changed into His image, and enjoy eternal life with God. God's forgiveness brings inexpressible peace. It helps us more readily forgive others. but we must ask for it in order to receive it.
Am I making choices to live and forgive in the ways of Jesus? How we live is a choice. How we forgive or do not forgive is a choice. We make choices, and choices have consequences. If we refuse to forgive, we cannot be forgiven; we cannot have peace.
By God's amazing grace, we can be forgiven. By that same grace, we can choose to forgive. If God has forgiven you, He will help you to live and forgive just as Jesus forgave. You make the choice.

If You Want Forgiveness and Power
SEE Your Condition
"There is none righteous, no, not one. All have sinned" (Romans 3:10, 23).
"All we like sheep have gone astray" (Isaiah 53:6).
HEAR God's Offer
"Believe on the Lord Jesus Christ, and thou shalt be saved" (Acts 16:31).
"Incline your ear, and come unto me: hear, and your soul shall live; and I will make an everlasting covenant with you" (Isaiah 55:3).
TASTE God's Provision
"Blessed are they which do hunger and thirst after righteousness: for they shall be filled" (Matthew 5:6).
"Jesus said unto them, I am the bread of life: he that cometh to me shall never hunger; and he that believeth on me shall never thirst" (John 6:35).
FEEL God's Transforming Power
"A new heart also will I give you, and a new spirit will I put within you: and I will take away the stony heart out of your flesh, and I will give you an heart of flesh" (Ezekiel 36:26).
LIVE a New Life
Jesus said, "I am come that they may have life, and that they might have it more abundantly" (John 10:10).
"As Christ was raised up from the dead by the glory of the Father, even so we also should walk in newness of life" (Romans 6:4).
God makes good come out of bad.
---
© Copyright 2007, Christian Light Publications
You may request printed copies of this tract from Christian Light Publications.