Dealing With Foul Language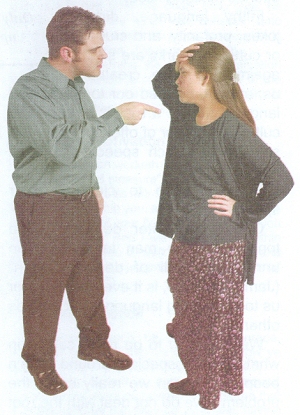 The dictionary says foul language is "offensive, disgusting, dirty, or vulgar speech." We might think, It's the other person's fault if he is offended by what I say. He shouldn't be so sensitive.

Think about it, though. We all know how it feels to have someone say something that offends us. We've heard it said that "sticks and stones may break my bones, but words can never hurt me." We know from experience that is not true. Word injuries can cut very deeply and last a long time.

But bad language does much more than hurt others' feelings. It offends almighty God.

Filthy language, dirty jokes, profanity, and crude or cutting remarks are sins against God. he created us, and He created our tongues. Bad language is not a matter of offending cultural norms or of offending people's sensitivities. Such speech offends a holy God.

Is it possible to clean up our speech?

Only God can clean up our speech.

One Bible writer declared, "The tongue can no man tame; it is an unruly evil, full of deadly poison" (James 3:8). So, is it even possible for us to stop using language that offends others?

We may vow to be more careful in what we say, especially around certain people. But, can we really solve the problem if we do not deal with the root cause? Bad language is a symptom of something deeper. We must deal with the cause to take care of the symptom.

Have you ever gone to the doctor with a rash? Do you expect him to just give you a salve for the itch? No, you expect him to discern what caused the rash and deal with that. The problem may call for more than just salve; it may call for measures that are more drastic.

Dealing with problems of the tongue requires drastic measures. Simply trying to be careful is like putting salve on the rash -- it is not enough.

Jesus said, "A good man out of the good treasure of his heart bringeth forth good things: and an evil man out of the evil treasure bringeth forth evil things" (Matthew 12:35). What is in your heart will come out. To deal with bad language, you first need to clean up your heart and mind.

The Bible tells us to "put off the old man," to "be renewed in the spirit of your mind," and to "put on the new man" (Colossians 3:9, 10; Ephesians 4:23). To take God's way to clean a mind, we must put away our old ways, including bad language. We can do that only as we fill our minds with what is good and right.

Bad language begins as wrong thoughts. Thus, our mind needs changing. The Bible says it this way: "Be ye transformed by the renewing of your mind, that ye may prove what is that good, and acceptable, and perfect, will of God" (Romans 12:2). This transformation happens only when we give our lives to Jesus Christ.

When Jesus was on earth, His speech was clean. He showed love and concern for other people. The Bible says, "Let this mind be in you, which was also in Christ Jesus" (Philippians 2:5).

Jesus said that loving God with all our mind and strength is the first of all commandments. "Thou shalt love the Lord thy God with all thy heart, and with all thy soul, and with all thy mind, and with all thy strength." Jesus added the second commandment: "Thou shalt love thy neighbor as thyself" (Mark 12:30, 31). When we love God, it will change the way we relate to others, including the way we talk.

Only God can make you into a new person, give you a new mind, and give you a heart filled with love. Only God can clean up your speech.

Only be coming to Christ can we be clean

Come to Him and ask Him to clean up your life. He will receive you. He says, "Him that cometh to me I will in no wise cast out" (John 6:37). He will forgive cleanse, and transform you.

Then, as you fill your mind with His Word, the Bible, He will give you new thought patterns. Your mind will be clean. Your speech will be clean. you will find new purpose in life.

God's cure for bad language and for every other sin is to come to Jesus Christ for a cleansed heart. Won't you come to him now? Your mind will be changed. Your speech will change. And you will know the delight of being a new person in Christ.
How to Find New Life and New Speech
Find a New Mind
"If thou shalt confess with thy mouth the Lord Jesus, and shalt believe in thine heart that God hath raised him from the dead, thou shalt be saved. For with the heart man believeth unto righteousness; and with the mouth confession is made unto salvation." (Romans 10:9,10).
"That ye put off concerning the former conversation the old man, which is corrupt according to the deceitful lusts; And be renewed in the spirit of your mind;" (Ephesians 4:22,23).
Find a New Motivation
"For it is God which worketh in you both to will and to do of his good pleasure." (Philippians 2:13).
"A new heart also will I give you, and a new spirit will I put within you: and I will take away the stony heart out of your flesh, and I will give you an heart of flesh. And I will put my spirit within you, and cause you to walk in my statutes, and ye shall keep my judgments, and do them." (Ezekiel 36:26,27).
Find a New Speech
"Let your speech be alway with grace, seasoned with salt, that ye may know how ye ought to answer every man." (Colossians 4:6).
"In all things shewing thyself a pattern of good works: in doctrine shewing uncorruptness, gravity, sincerity, Sound speech, that cannot be condemned; that he that is of the contrary part may be ashamed, having no evil thing to say of you." (Titus 2:7,8).
"And he hath put a new song in my mouth, even praise unto our God: many shall see it, and fear, and shall trust in the LORD." (Psalm 40:3).
Find a New Life
"Therefore if any man be in Christ, he is a new creature: old things are passed away; behold, all things are become new." (2 Corinthians 5:17).
"Put on the new man, which is renewed in knowledge after the image of him that created him:" (Colossians 3:10).
The way you speak reveals
your heart's condition.
---
© Copyright, Christian Light Publications
You may request printed copies of this tract (Just for You #449) from Christian Light Publications.