Global Warming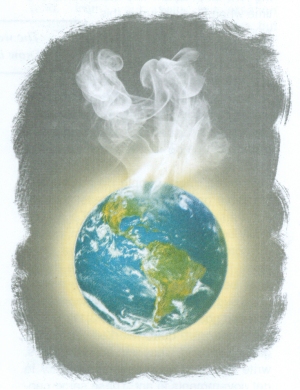 We hear a lot about global warming these days. Some scientists are warning that if we do not take drastic measures, the world's climate will change dramatically, ice caps will melt, and man's whole way of living on Planet Earth will change.

Others say that global warming is nothing to worry about. The earth goes through warmer and cooler phases. The phase we are in right now is normal for the earth.

Who is right? I don't know.

But, I do know that there is heat coming for Planet Earth. The Bible warns of a time when God will judge this world and the people in it. "The day of the Lord will come as a thief in the night; in the which the heavens shall pass away with a great noise, and the elements shall melt with fervent heat, the earth also and the works that are therein shall be burned up" (2 Peter 3:10).

Granted, most people do not believe the Bible on this point -- at least they do not act like they do. Because if a person really believes God will judge him, he will do something to prepare. As the Bible says, "Seeing then that all these things shall be dissolved, what manner of persons ought ye to be in all holy conversation and godliness?" (2 Peter 3:11).

The world as we
know it will end.

People get quite worked up about global warming. They join activist groups, write letters to congressmen, and try to get governments to act. These same people can read what the Bible says about their sinfulness and God's judgment and, by all appearances, not care at all.

The Bible talks about people who choose not to believe. "There shall come in the last days scoffers, walking after their own lusts, and saying, Where is the promise of his coming? for since the fathers fell asleep, all things continue as they were from the beginning of the creation" (2 Peter 3:3, 4).

In other words, they are saying, "There's nothing to this idea of a day of judgment. Earth came out of the big bang, and over millions and billions of years things have been evolving right along. There is no God who acts in history."

The Bible reminds us that after God created the world and man became very violent and sinful, God judged the world with a flood. "The world that then was, being overflowed with water, perished" (2 Peter 3:6).

Things have not continued "as they were from the beginning." God very definitely entered history and made Himself known.

He will do it again, but not with water this time. "The heavens and the earth...are kept in store, reserved unto fire against the day of judgment and perdition of ungodly men" (2 Peter 3:7).
How can I be ready?
Believe God. "By faith Noah, being warned of God of things not seen as yet, moved with fear, prepared an ark to the saving of his house; by the which he condemned the world, and became heir of the righteousness which is by faith" (Hebrews 11:7). When God warned Noah of the coming flood, he believed God and prepared for it. We must believe God and act on what He says.

Repent of your sins. "Repent ye therefore and be converted, that your sins may be blotted out, when the times of refreshing shall come from the presence of the Lord" (Acts 3:19). Repentance is renouncing your sin and turning to God for forgiveness.

Love God. "We love him, because he first loved us" (1 John 4:19). God loved us and gave His Son Jesus to die for our sins. God continues to lavish good gifts on those who love and serve Him.

How do we go about loving Him? By obeying Him: "He that hath my commandments, and keepeth them, he it is that loveth me" (John 14:21).

Remember the Judgment. "The heavens being on fire shall be dissolved, and the elements shall melt with fervent heat" (2 Peter 3:12). It will happen, and those who do not prepare will face it.

There is a new world coming.

The Bible goes on to say, "Nevertheless we, according to his promise, look for new heavens and a new earth, wherein dwelleth righteousness. Wherefore, beloved, seeing that ye look for such things, be diligent that ye may be found of him in peace, without spot, and blameless" (verses 13, 14).

Is global warming a major issue? We cannot yet definitely know whether it will cause problems for mankind.

However, God will judge the earth with fire. Are you prepared for that day?
To Prepare for the Judgement
Go to Jesus for salvation.
"Ye know that ye were not redeemed with corruptible things, as silver and gold, from your vain conversation received by tradition from your fathers; but with the precious blood of Christ, as of a lamb without blemish and without spot" (1 Peter 1:18, 19).
Walk daily with Christ.
"And he said to them all, if any man will come after me, let him deny himself, and take up his cross daily, and follow me" (Luke 9:23).
Obey the commands of Christ.
"Ye are my friends, if ye do whatsoever I command you" (John 15:14).
"Herein is my Father glorified, that ye bear much fruit; so shall ye be my disciples" (John 15:8).
"For we are his workmanship, created in Christ Jesus unto good works, which God hath before ordained that we should walk in them" (Ephesians 2:10).
Live in readiness for Christ's return.
"Be ye therefore ready also: for the Son of man cometh at an hour when ye think not" (Luke 12:40).
"But the end of all things is at hand: be ye therefore sober, and watch unto prayer" (1 Peter 4:7).
"And every man that hath this hope in him purifieth himself, even as he is pure" (1 John 3:3).
Give yourself to Christ --
and receive God's greatest Gift!
---
© Copyright, Christian Light Publications
You may request printed copies of this tract (Just for You #453) from Christian Light Publications.