to the glory of God and the edification of people everywhere
Our World Has Changed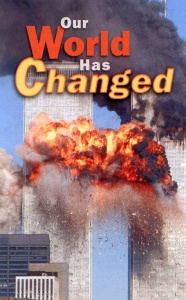 We used to read about terrorism in other countries. We encountered suicide bombers and germ warfare only in the newspapers. We could hardly have imagined hijacked jets smashing into buildings or deadly anthrax spreading through the U.S. mail.
Our world has changed. We have heard the sirens. We have turned horrified eyes to the burning skies. The flaming towers are etched forever on our memories. Every day the altered skyline reminds us of the tragedy.
Our world has changed. We watch in dismay as HAZMAT teams examine post offices. We grieve the loss of friends and loved ones. We know fear.
The unbelievable has happened. And our world has changed.
One thing has not changed. And that one thing is what we have always needed. It is what we need now. It is God. God never changes.
"I am the LORD, I change not" (Malachi 3:6).
God is the answer to man's needs. Perhaps you are wondering, "How can God help us?"

God can help us to understand.
We can hardly comprehend the evil that is taking place. God has explained why such evil exists. In the Bible, God tells us that He created us with the power of choice. People can choose to do good or evil. Many have chosen evil. And in an evil world, evil things happen. That is to be expected as long as the world stands. "Evil men . . . shall wax worse and worse" (2 Timothy 3:13).
In fact, we have all chosen evil. We all are stained by sin. And our sin has separated us from God. God says plainly: "All have sinned, and come short of the glory of God" (Romans 3:23).
Sin is the reason for so much trouble in the world. A wise man who lived thousands of years ago said, "Man is born unto trouble, as the sparks fly upward" (Job 5:7). Can mighty armies save us from this trouble? Can a wise government? A powerful economy?
Of course not. God tells us not to trust in those kinds of things. "Thus saith the LORD, Let not the wise man glory in his wisdom, neither let the mighty man glory in his might, let not the rich man glory in his riches" (Jeremiah 9:23).
Where then can we find security?

God can give us security.
God never changes. Evil men may grow worse. Acts of terrorism may increase. Even more treacherous deeds may come. But God stands unchanged, and His children need not be afraid. "In the fear of the LORD is strong confidence: and his children shall have a place of refuge" (Proverbs 14:26).
The Bible tells us that nothing can separate us from God if we keep trusting and obeying Jesus Christ. "Neither death, nor life, nor angels, nor principalities, nor powers, nor things present, nor things to come, nor height, nor depth, nor any other creature, shall be able to separate us from the love of God, which is in Christ Jesus our Lord" (Romans 8:38,39).
God changes not. He keeps His promise. That is certain. That is security. And that can bring strong comfort in these distressing times.

God can give us peace.
In the Bible, God tells us how deeply He loves us. He sent His only Son Jesus to be a sacrifice for our sins.
Now, those who place their trust in Jesus are freed from guilt. They know God. They overcome sin. As they live in trust and obedience to Christ, God gives them perfect peace. "Thou wilt keep him in perfect peace, whose mind is stayed on thee: because he trusteth in thee" (Isaiah 26:3).
Trusting in Jesus Christ brings an inner peace that knows no terror. This peace comes only from the God who changes not, and who rules over all. Further, the Bible says Jesus is coming again to take His children with Him to heaven for all eternity. Yes, troubles may increase. But trusting in such a God, how could we not have peace?
Jesus said, "These things I have spoken unto you, that in me ye might have peace. In the world ye shall have tribulation: but be of good cheer; I have overcome the world" (John 16:33).

God can give YOU perfect peace.
"I will hear what God the LORD will speak: for he will speak peace unto his people, and to his saints: but let them not turn again to folly" (Psalm 85:8).
Only in Jesus Christ is there perfect peace. But to have it, you must turn away from the folly of resisting God and living for yourself. You must turn from sinning and turn to obeying Him. You must "cease to do evil; learn to do well" (Isaiah 1:16,17).
Stop resisting God. Put your trust completely in Jesus Christ. Accept Him as your Saviour from the guilt of sin and as your Lord and Master. In these changing times, reach out to the Unchanging One. Only He can help you understand. Only in Him will you find security and peace.
---
by Leon Yoder
© Copyright 2001 Christian Light Publications
---
Send this tract to a friend!