to the glory of God and the edification of people everywhere
How To Make SURE You Are Saved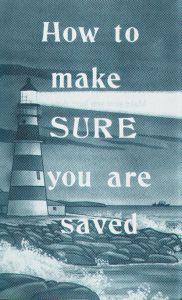 There are more than two hundred religions in America. Some of these differ sharply with others as to the way to be saved. Some claim one cannot be sure of salvation in this life, but one must wait until after death to find out whether he will get to heaven or not. In the midst of this confusion and uncertainty, several sensible things must be done.
Make sure you have done what
the Bible says you must do to
become saved.
1. REPENT
"Except ye repent, ye shall all likewise perish" are Jesus words (Luke 13:3). There is no hope for any of us to be saved unless we are willing to give up sin. There is no use to deny our sinfulness or to try to cover it up.
He that covereth his sins shall not prosper: but whoso confesseth and forsaketh them shall have mercy (Proverbs 28:13).
2. BELIEVE
"Believe on the Lord Jesus Christ, and thou shall be saved" (Acts 16:31). God sent His Son to save us from our sins. Jesus died for our sins, rose again a victorious, ever-living Saviour, now able to save to the uttermost all that come to God by Him. Don't trust yourself, your own goodness (!), your church or religious leader, or even your best friend. "Believe on the Lord Jesus Christ, and thou shalt be saved." Depend on Him as your Saviour, believe in Him as God's appointed and anointed means of forgiveness, and exercise all confidence in Him as the guide and master of your life.
For God so loved the world, that he gave his only begotten Son, that whosoever believeth in him should not perish, but have everlasting life (John 3:16).
3. CALL ON THE NAME OF THE LORD
Do not glory in your goodness as did the man who went up to the temple to pray, but like the publican, cry humbly to God for mercy. Only the Lord Jesus can save you -- ask Him personally to do it for you!
The Lord nigh unto them that are of a broken heart; and saveth such as be of a contrite spirit (Psalm 34:18).
For whosoever shall call upon the name of the Lord shall be saved (Romans 10:13).
4. BE BAPTIZED
"Be baptized . . . in the name of Jesus Christ for the remission of sins and ye shall receive the gift of the Holy Ghost" (Acts 2:38). This does not mean that every baby that is "baptized" will receive this gift and be saved. Peter was talking to grown-ups and telling them to repent in sorrow for their sins and then to be baptized. In one of his letters, Peter explains how baptism has something to do with our salvation:
The like figure whereunto even baptism doth also now save us (not the putting away of the filth of the flesh, but the answer of a good conscience toward God,) by the resurrection of Jesus Christ (1 Peter 3:21).
When people once have godly sorrow for their sins, and a whole-hearted confidence in Christ as Saviour and leader, they should express these good attitudes by asking for baptism in the Name which alone can save. Jesus Himself, who was sinless and needed no baptism, desired to be baptized to "fulfil all righteousness." Among His last words on earth were these:
He that believeth and is baptized shall be saved; but he that believeth not shall be damned (Mark 16:16).
5. CONFESS JESUS AS YOUR LORD
Let people know that you have decided to trust and follow Him. If you are ashamed of Him, He will be ashamed of you. Take an open stand for Him. He is your Lord and Saviour. Don't be afraid to say so to anyone, anytime, anywhere.
If thou shalt confess with thy mouth the Lord Jesus, and shalt believe in thine heart that God hath raised him from the dead, thou shalt be saved (Romans 10:9).
6. OBEY JESUS IN EVERYTHING
If Jesus is to be your eternal Saviour, and if you are going to own Him as such before men, you will have to act accordingly. Be sincere. If you want Him to save you, let Him lead you all the way. Don't call Him Lord, unless you are willing to obey Him in every respect. If He is not Lord of all, He is not Lord at all. Faith without works is dead according to God's own Word. Jesus is your example as well as your Saviour.
Not every one that saith unto me, Lord, Lord, shall enter into the kingdom of heaven; but he that doeth the will of my Father which is in heaven (Matthew 7:21).
Though he were a Son, yet learned he obedience by the things which he suffered, and being made perfect, he became the author of eternal salvation unto all them that obey him (Hebrews 5:8,9).
Make sure you are doing what
the Bible says one must do to
remain saved.
1. KEEP YOUR FAITH FIXED ON JESUS
If you love Jesus, you will keep His commandments and live a holy life. But don't ever start depending on your goodness for salvation. Keep looking to Jesus. "The just shall live by faith," not just get a pardon by faith, and then struggle on in the energy of self.
For we are made partakers of Christ, if we hold the beginning of our confidence stedfast unto the end (Hebrews 3:14).
2. GROW
"Grow in grace, and in the knowledge of our Lord and Saviour Jesus Christ" (2 Peter 3:18). Plants either grow or die. And you must grow too if you do not want to lose out with God. Put your roots in deeper every day if you want to survive the storms of life that will bear down on you as you grow older. Use all the divinely appointed means for spiritual growth: (1) Read God's Word with zest. "As newborn babes, desire the sincere milk of the word, that ye may grow thereby" (1 Peter 2:2). (2) "Pray without ceasing." Keep in touch with the Source of power, the One you who has "begun a good work in you" and "will perform it until the day of Jesus Christ." (3) Keep up church and Sunday school attendance. Warm Christian fellowship should prove a constant spiritual stimulus for every believer.
Not forsaking the assembling of ourselves together, as the manner of some is; but exhorting one another: and so much the more, as ye see the day approaching (Hebrews 10:25).
3. LET GOD'S SPIRIT ALONE LEAD YOU
"For as many as are led by the Spirit of God, they are the sons of God." Avoid letting the spirit of the world dominate you. Give yourself, body and soul, to God. Take no cues from human society, but let God's Spirit transform you by renewing your mind. Human society is largely sinful, and its ideals and morals grossly perverted.
Love not the world, neither the things that are in the world. If any man love the world, the love of the Father is not in him. For all that is in the world, the lust of the flesh, and the lust of the eyes, and the pride of life, is not of the Father, but is of the world (1 John 2:15,16).
Wherefore come out from among them, and be ye separate, saith the Lord, and touch not the unclean thing; and I will receive you, and will be a Father unto you, and ye shall be my sons and daughters, saith the Lord Almighty (2 Corinthians 6:17,18).
Make sure you have the
earmarks of the saved.
1. OBEDIENCE
Are you listening to Jesus? Do you follow Him daily? Do you obey all His commandments as given in the New Testament?
2. LOVE
Jesus has taught us to love one another, even our enemies. He has given us His Spirit, the Spirit of love. Is there anyone we do nor love, or "cannot" forgive? Do we really love one another?
3. PEACEABLENESS AND HOLINESS
"Blessed are the peacemakers: for they [not the war makers] shall be called the children of God" (Matthew 5:9).
Those who meet the conditions laid down in God's Word need have no doubt about their salvation here or hereafter.
---
by Clarence Y. Fretz
Rod & Staff tract 22E79
---
Send this tract to a friend!

Return to unofficial Rod and Staff home page
Return to Rod and Staff Tract Index