to the glory of God and the edification of people everywhere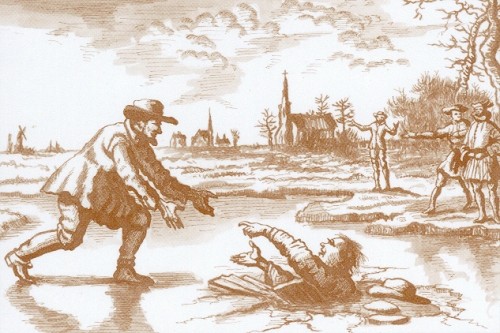 Dirk Willems Saving His Captor's Life
Illustration: In 1569 a Dutch Christian named Dirk Willems fled for his life. His pursuers were hot on his trail, not because he had committed a gross crime, but because he refused to follow the teachings of the state church.
Dirk almost escaped his captors as he fled across a frozen river. Once over the frozen river, he turned to see one of his pursuers fall through the treacherously thin ice. Quickly he dashed across the ice, rescued his drowning enemy, and helped him back to shore.
The grateful man wanted to let Dirk go free, but the other captors refused to agree. They immediately imprisoned him and later burned him to death. Dirk refused to resist evil but, as Christ commanded, he returned good for evil.
Why I Am A Conscientious Objector
GOD'S WORD -- ITS TEACHING
"But I say unto you, That ye resist not evil: but whosoever shall smite thee on thy right cheek, turn to him the other also" (Matthew 5:39).
"And whosoever shall compel the to go a mile, go with him twain" (Matthew 5:41).
"But I say unto you, Love your enemies, bless them that curse you, do good to them that hate you, and pray for them which despitefully use you, and persecute you; That ye may be the children of your Father which is in heaven" (Matthew 5:44,45).
GOD'S WORD -- ITS AUTHORITY
"Thy word is truth" (John 17:17).
"In the beginning was the Word, and the Word was with God, and the Word was God" (John 1:1).
"Heaven and earth shall pass away, but my words shall not pass away" (Matthew 24:35).
-- compiled by C.D. Wenger, adapted
Used by permission. Adapted from a Gospel tract published by Christian Light Publications.