Angels Over Waslala
by Pablo Yoder & Philip Cohen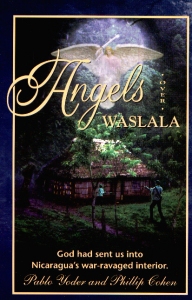 After 13 armed robberies, 4 burglaries, and 3 letters demanding money, some missionaries would return home, but not the small group who went to Waslala, Nicaragua, to start a new church.
Angels Over Waslala will draw you into the missionaries' tight-knit circle with its graphic portrayal of their experiences--God's call, His leading, and His protection; their fears, their terrifying encounters, their victories and reassurances.
Reading this story, you will rejoice with them in the responses of their Nica friends who have become brothers and sisters in the growing church, now made up of many more Nicaraguans that North Americans. Your faith will be strengthened as you realize anew the power of the Gospel to overcome powers of evil.
42 chapters. 250 pages. Paperback.
Excerpts:

The Call of God (chapter 1)
Turn Off the Flashlight (chapter 20)
---
---
You may purchase Angels Over Waslala from Anabaptist Bookstore:
---