---
Let's suppose this tank driver is a Christian. (His nationality is immaterial.)
As he looks out from his instrument of death, is he looking for ways to bless his adversaries?
What, then, is he doing in that tank?!


---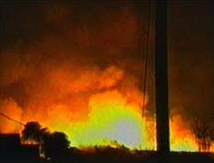 Imagine this is a missile explosion that has taken place right now . . . in your neighborhood. And imagine it was launched by a Christian.
Could you accept that missile as a token of love from that Christian?
What, then, is he doing raining such death and destruction on you?!


---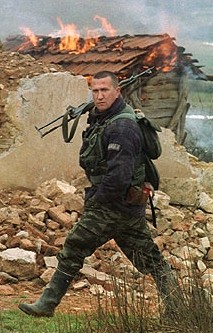 Now let's suppose this soldier is a Christian. (Whether he is Kosovar, Serbian, Italian, American or British makes no difference.)
What do you suppose he will do if he sees an enemy soldier, especially if that other soldier is in a threatening stance?
I cannot believe that he is out for the express purpose of doing good to his adversaries. (Nor do I believe that the fire and rubble in the background could have been caused by Christians expressing their love for their fellowman.)
What, then, is he doing in a combat situation bearing an instrument of death?!


---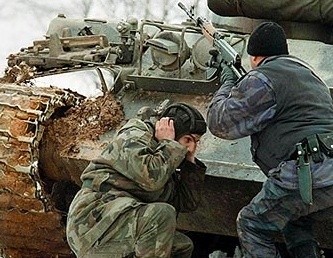 Now consider these two men.
Do they strike you as individuals expecting to receive a blessing from a Christian adversary?
Well, perhaps they appear to you as Christians intent on doing good to their enemies?
What, then, are they doing as armed combatants?!


---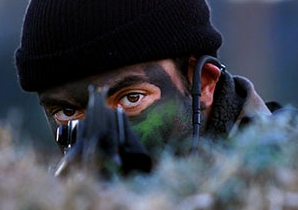 If this fellow aims to pull the trigger, you are at the wrong end of the barrel to be blessed!
Or if this is how someone else sees you, then you are at the wrong end of the barrel to do any blessing!
If this soldier is a Christian . . . .
What, then, is he doing here?!


---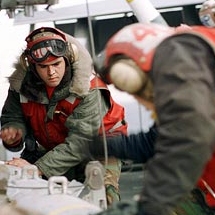 Many Christians package love bundles with food, medicines and other essentials.
This is not what you see here. These men are preparing a missile or bomb (I can't recall which) on board an aircraft carrier.
If they are Christians and they are supposed to love their enemies . . . .
What, then, are they doing this for?!


---

Imagine that these photos were meant to go together. Also imagine that the fighter pilot is a Christian.
Now imagine the child is watching that jet.

How would you describe the look on her face? Eager anticipation, awaiting an expression of love from one of Christ's representatives?
What, then, is that pilot doing in that war plane?!


---
The Lord Jesus has given every Christian the mandate to love everyone.
Can you imagine two Christians on the same battlefield but on opposing sides, firing weapons at each other and thus loving one another as Jesus loved them?
As Christians we have been given the ministry of reconciliation, of hope and of service.
How could we possibly accomplish that with instruments of war?!
---
This rather informal, unpolished little article is not meant to judge anyone. That is the Spirit of God's job, not mine. I want to simply present a few thoughts and rhetorical questions for you to consider.
It is my hope that reading these few words will give you new thoughts whenever you see war-related photography in the future.
---
Much more could be said. Do you have any thoughts or Scripture verses to add? If so, please email them to me. I just might append them here.
---
Send this article to a friend!
---
Return to: