You may contact them at:
LAMP AND LIGHT PUBLISHERS
26 Road 5577
Farmington, NM 87401 USA

phone: (505)-632-3521
fax: (505)-632-1246
email: Email
---
When you contact Lamp and Light, please let them know you heard about them from Mark Roth via the Internet. This is important for tracking purposes. Thank you!
---
Lamp and Light Publishers offers you and your friends free Bible studies on various subjects. These courses are not recommended for preteens. For a printable brochure, click the graphic at the right. Below are brief descriptions of the courses: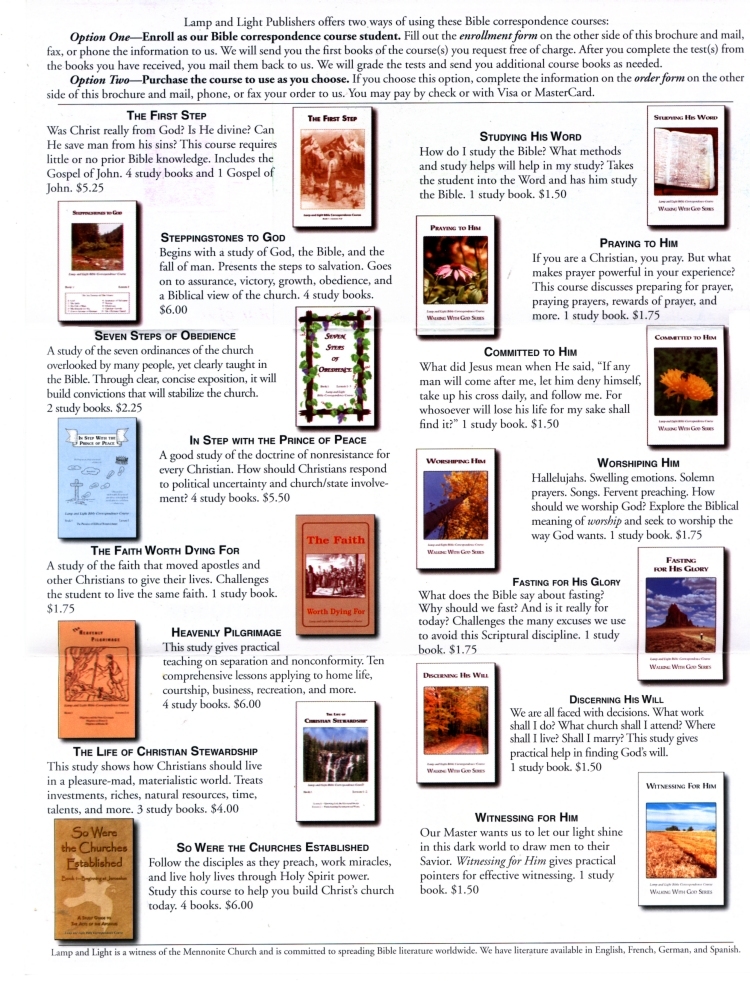 The First Step: This correspondence course from the Gospel of John answers these questions:

Was Christ really from God?
Is He divine?
Can He save man from his sins?


This course is for those who wish to learn more of Christ and His mission on earth even if they have little or no Bible knowledge. A copy of the Gospel of John is included with each course. 5 books (including the Gospel of John).

Steppingstones to God: Begins with a foundational knowledge of God, the Bible, and the fall of man. Presents the remedy for sin and the basic steps to salvation. Students are led on to assurance, victory, growth, and obedience. Concludes with a Biblical view of the church. 4 books.

Seven Steps to Obedience: A study of the seven ordinances of the church overlooked by many people, yet clearly taught in the Bible. Through clear, concise exposition, it will build convictions that will stabilize the church. 3 books.

In Step with the Prince of Peace: A good study for every Christian, young or old, treating the doctrine of nonresistance. How should Christians respond in a time of political uncertainty? Answers questions concerning church and state involvement. 4 books.

The Faith Worth Dying For: A study of the faith that moved apostles and many other Christians to give their lives. Numerous illustrations by Jan Luyken illustrate various accounts from the Martyrs Mirror of how Christians suffered and died for their faith. Challenges the student to live the same faith. 1 book.

The Heavenly Pilgrimage: This study gives practical teaching on separation and nonconformity. Ten comprehensive lessons applying to home life, courtship, business, recreation, speech, education, attire, and philosophy. 4 book.

The Life of Christian Stewardship: This study of stewardship principles shows how the Christian should live in a pleasure-mad, materialistic society. Refutes modernistic ideas with principles taught by the Master. Treats investments, riches, natural resources, time, talents, and more. 3 books. (limited availability)

Fasting For His Glory: What does the Bible say about fasting? What does fasting do for us? And is it really for today? Challenges the many excuses we use to avoid Scriptural discipline. Learn the blessings that fasting brings. 1 book.

Discerning His Will: We are all faced with decisions:

What work should I do?
What church should I attend?
Where should I live?
Should I marry? If so, whom?
Should I make this purchase?


This study gives practical help in finding God's will. 1 book.

Witnessing for Him: We all have a mission in life. Our Master wants us to let our light shine in this dark world to draw people to their Savior. "Witnessing for Him" gives practical pointers for effective witnessing. 1 book.

Worshiping Him: Hallelujahs. Amens. Swelling emotions. Solemn prayers. Songs. Fervent preaching. Robes. Cathedrals. How do we worship? How would God have us worship Him? This study explores the Biblical meaning of worship and points to worship the way God wants. 1 book.

So Were the Churches Established: Follow the disciples as they preach, work miracles, and live holy lives through Holy Spirit power. Study this course to help you build Christ's church today. 4 books.

Studying His Word: How do I study the Bible? What methods and study helps will help in my study? Takes the student into the Word and has him study the Bible. 1 book.

Praying to Him: If you are a Christian, you pray. But what makes prayer powerful in your experience? This course discusses preparing for prayer, praying prayers, rewards of prayer, and more. 1 book.

Committed to Him: What did Jesus mean when He said, "If any man will come after me, let him deny himself, take up his cross daily, and follow me. For whosoever will lose his life for my sake shall lose it?" 1 book.

To enroll for the first course, fill out and submit the form below. (Please do not enroll if you are under sixteen years old.)



Thank you for your interest. When you click Submit this information will be sent to Lamp and Light for processing.