to the glory of God and the edification of people everywhere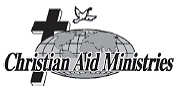 Christian Aid Ministries
By God's grace, CAM has become a top-rated relief agency. They also have an all-star rating at 99% efficiency with Charity Navigator Rating (America's largest independent charity evaluator).
Will You Help?
CAM has a variety of programs and projects in a number of countries. Annually, CAM distributes approximately 15 million pounds of food, clothing, medicines, seeds, and Christian literature in Romania, Moldova, Ukraine, Haiti, Nicaragua, Liberia, and various other countries.
Most of CAM's relief programs involve material aid, which is mostly channeled to needy Christians as a source of support and encouragement. CAM provides aid to Christians and non-Christians alike who are victims of wars, economic hardships, or natural disasters. CAM's primary goal is to spread the Gospel and shine forth as a Christian example while providing aid and relief because everyone's greatest need can only be met with a personal, saving relationship with Jesus Christ.
The ministry also provides Bibles and other Christian literature translated into local languages. Among these are the ministry's Seed of Truth magazine, which circulates 100,000 copies each month in Haitian Creole, Romanian, English and Russian. A German newsletter also is published, going mostly to about 400 Mennonite readers in Latin America.
According to MinistryWatch, an online stewardship monitor, Christian Aid Ministries received nearly $134 million in donations and other revenue in 2001. This puts CAM in close company with more well-known ministries such as Samaritans Purse ($150 million) and Christian Children's Fund ($133 million).
Most of the ministry's donors are Old Order Amish and conservative Mennonites.
---
CHRISTIAN AID MINISTRIES
PO Box 360
Berlin, OH 44610
USA
telephone: 330-893-2428
---
When you contact Christian Aid Ministries, please let them know you heard about them from Mark Roth via the Internet. This is important for tracking purposes. Thank you!
Though this site has been online for many years, it is not the official site for CAM. Since November 2011, you can visit find that at christianaidministries.org.